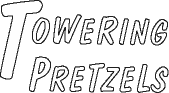 Welcome to the Towering Pretzels Website. On these pages, you can find out about:


D

ownload mp3 cuts

The Musicians in Towering Pretzels
Request us on Your Favorite Radio Station.
---
Links to other interesting sites on the net.
All Photography by Jon Pike of Mystery Bear Productions

Towering Pretzels Music e-mail

All images, text, audio and graphics is copyright by the Towering Pretzels (Margo Granfors & Herbie Robinson) or Jonathan R. Pike. All rights reserved.

Unless otherwise specified on the individual pages:
Permission is granted to duplicate any portion of this web site for personal use.
Permission is also granted to duplicate any portion of this web site in any publication which provides publicity for Towering Pretzels.
Under all circumstances, the original copyright notice(s) must be preserved.
Towering Pretzels is a service mark of Margo Granfors & Herbie Robinson.
Pursuant to US Code, Title 47, Chapter 5, Subchapter II, §227, any and all unauthorized commercial E-mail sent to any address in this web site is subject to a professional analysis, download and archival fee in the amount of $1000 US. E-mailing denotes acceptance of these terms.
The Computer Fraud and Abuse Act of 1986 (18 USC 1030) prohibits unauthorized interstate transmission of a harmful program, information, code, or command which causes loss or damage to one or more other persons of value aggregating $1,000 or more during any 1-year period. Any violations involving curbside-recording.com will be reported to the authorities as time permits.
You ARE authorized to send the following e-mail to addresses @curbside-recording.com:
Any E-mail which is sent out to fewer than 100 recipients.
Any E-mail requested by anyone with a mailbox @curbside-recording.com.
Any E-mail which is directly related to the music industry. If you aren't sure what you are going to send applies, then ask before putting us on your mailing list!
No other unsolicited e-mail is authorized.